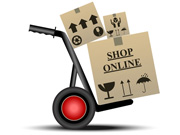 Shipping Policy
A Shipping policy is digital products can't usually be Shipping, as they are downloadable, licensed, or accessed on a subscription basis.
All our software products are available for purchase on our website and with our partners. We provide various free trial periods so that you could easily evaluate our products before you make a purchase decision. The trial period helps you evaluate the product to make sure that the software meets all your desired needs before you purchase a license. your license to use the software will be activated. After the activation of the license. We won't be entitled for any Shipping.
Delivery Policy
Astroid Technologies is a service provider. web site hosting, domain name registrations, software development, web site design, etc.
No Delivery policy applicable for purchased any product services.