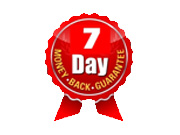 Refund Policy
In case any client is not completely satisfied with software product's service, we can provide a refund within 7 days of payment and any third party products or services not applicable. Provided the reasons are genuine and proved after investigation. Please read the fine prints of each deal before buying it, it provides all the details about the services or the product you purchase.
All our software products are available for purchase on our website and with our partners. We provide various free trial periods so that you could easily evaluate our products before you make a purchase decision. The trial period helps you evaluate the product to make sure that the software meets all your desired needs before you purchase a license.
All of our software is functional during the trial period and does not require registration to enable its primary functionality. On the actual purchase of software and post-payment clearance, your license to use the software will be activated. After the activation of the license, you won't be entitled for any refunds, customers are requested to read the end customer Service Level Agreemen (SLA).
If paid by credit card, refunds will be issued to the original credit card provided at the time of purchase and in case of payment gateway name payments refund will be made to the same account.
Cancellation Policy
The Customer has order cancel with in 7 days give a cancelation request, For any reason you are not completely satisfied with your order, simply requiest to cancelation within 7 days of the invoice date in only downloaded software with astroid technolgoies products any third party product not applicable.
Return Policy
A Returns policy is digital products can't usually be returned, as they are downloadable, licensed, or accessed on a subscription basis.
This means that the primary way for your customers to deal with any problems is to ask for a refund, or for them to cancel their subscription altogether.
In some cases, digital products can be repaired, such as by releasing a software patch to fix any bugs. These things all need to be covered in your refunds policy, as well as specifically noting that your digital products are not returnable.