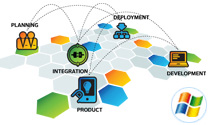 Astroid Technologies offers comprehensive software product development services. For Independent Software Vendors ( ISV´s), Astroid Technologies provides full product development life cycle services, including architecture, design, development, integration, implementation, customization and support. Our software development team can help you in development / enhancement of your product(s) either on a turnkey basis or by augmenting your development team by way of FTEs (Full Time Equivalents). For more information on our delivery Product, please click here.
Astroid Technologies product development services for only end user and we have produced quality products for our clients globally. Our clients easily to understand our product, that wish to shorten the time they need to get their products to the market.
Our services include the following
Application Development
Application Enhancement / Upgrades
Application Migrations
Application Maintenance
The end products that we deliver to our clients undergo intensive testing and are always subjected to a beta release before the final release. We could assist you with development of your IT products on any one of the following technlogies
Following Technologies
ASP, ASP.Net, VB Script, Javascript
Visual Basic 6.0, VB.Net
Win32 API
TCP/IP, sockets
SQL Server, MYSQL, MS Access
If you are a ISV and need to develop or maintain a product we would recommend that you consider the FTE delivery model; this can help you ensure that development is continuous and product development is a proactive process where before release of the final product resources are allocated to go any customer specific modifications that may be needed.
Why Choose us?
Attractive and exclusive design
Customized development methods
Simple and user-friendly interface
Use of latest tools and technologies
Transparency at work
Error-free coding with quality
Simple deployment with on-time project delivery
Good support via multiple channels
Contact Us