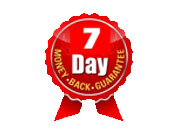 In case of dissatisfaction from our product, clients have the liberty to cancel their invoice and request a refund from us. You may cancel at anytime by sending request using by email at info@astroidtechnologies.com or simply calling +91-9840266516.
Our Policy for the cancellation and refund will be as follows:
Cancellation Policy
The Customer has order cancel with in 7 days give a cancelation request to refund. For any reason you are not completely satisfied with your order, simply requiest to cancelation within 7 days of the invoice date.

We will refund remaining balance, Payments rendered by credit card will be refunded by crediting the credit card account used to make the payment within 15 business days after receipt of cancellation.
only for card payment other payment method will not be refund.
Return Policy
Return policy is only for customer in card payment in India and we won't be able to provide exchange, returns or refunds to our international customer due to prohibitive.